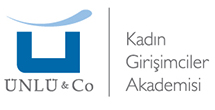 Women Entrepreneurs Academy

At its 20th anniversary in 2016, ÜNLÜ & Co conceived in collaboration with Turkish Entrepreneurship Foundation and Endeavor Turkey, 'ÜNLÜ & Co Women Entrepreneurs Academy' to nurture the entrepreneurial spirit and to pave the way for the greater participation of women in the economy, employment, and society.
Seeking to help mobilize Turkey's substantially untapped female workforce, the Academy provides training every year to 20 women entrepreneurs, selected from among numerous applicants. During its nine-month duration, alongside core competency trainings, the Program also offers mentor-mentee support, networking and investor meetings. ÜNLÜ & Co employees contribute to the Program, offering guidance and expertise. To ensure the continuity of the Program, which has delivered 80 graduates to the ecosystem to date, all training and mentoring processes have been shifted to online platforms during the pandemic. Having completed the Program and graduated, women entrepreneurs have racked up an impressive roster of national and international achievements with their ventures. Among the entrepreneurs, 15 are supported by Cherie Blair Foundation, 12 have been approved by various nationwide incubation centers, 15 have received investments through national and international platforms, and 8 feature among Fastcompany 2020 Women Entrepreneurs.
ÜNLÜ & Co is a true entrepreneurial success story, having contributed to the development of investment services in Turkey and the growth of the industry, as well as introducing new products into the market and creating many new fields over the last two decades. We believe that this transfer of know-how and experience empowers women entrepreneurs, with notable implications for Turkey's economic and social development.