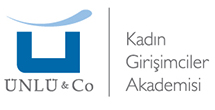 Women Entrepreneurs Academy

ÜNLÜ & Co Women Entrepreneurs Academy has been launched by ÜNLÜ & Co to nurture the entrepreneurial spirit and to pave the way for the greater participation of women in the economy, employment, and society.
ÜNLÜ & Co Women Entrepreneurs Academy aims to support women and women entrepreneurs. As ÜNLÜ & Co celebrates its 20th anniversary as a true entrepreneurial success story with international awards, the Academy has graduated its first 20 women entrepreneurs. The operations of the academy are carried out in cooperation with the Turkish Entrepreneurship Foundation (GIRVAK) and Endeavor Turkey, and it is anticipated that 100 entrepreneurs will be supported through their training and entrepreneurship journey over the course of the next five years.
As part of the academy's activities, 20 women at the implementation stage of their business plans and those who already have enterprises are trained in the all the main areas an entrepreneur might need, including financial literacy, leadership, human resources management, business planning, and operational processes. The academy provides also mentorship, self-improvement and networking opportunities for entrepreneurs.
ÜNLÜ & Co is a true entrepreneurial success story, having contributed to the development of investment services in Turkey and the growth of the industry, as well as introducing new products into the market and creating many new fields over the last two decades. Now we want to share our entrepreneurial success, knowledge, and expertise with younger generations and further contribute to the economy of our country. It is an undeniable fact that the position of women in all areas needs improvement in order for our country to go forward in social and economic arenas. In other words, the way to development is through more active participation by women in social and economic life. Right at this point, entrepreneurship is a concept we must promote and support. ÜNLÜ & Co attaches great importance to the participation of women in the field of entrepreneurship.