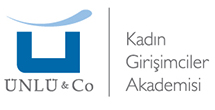 Educational Content
In the framework of Women Entrepreneurs Academy, our managers at ÜNLÜ & Co and expert guest lecturers share their know-how and experience, providing guidance to women in their economic empowerment and contribution to the economy.
The 9-month program features training on a number of key topics pertinent for an entrepreneur, ranging from business plan development to digital marketing; from cash management and debt financing to leadership and human resources management.
Due to the pandemic, 5th Term training and mentoring processes will be conducted fully online.
Training Topics:
Business Plan Creation
Entrepreneurial Case Studies
Debt Financing
Company Valuation
Branding
Digital Marketing
E-commerce
Leadership and People Management
Law
Finance
Marketing and Sales
Preparing for Investor Presentation